2023 Incidents
Jan
63
Feb
65
Mar
62
Apr
82
May
78
Jun
94
Jul
103
Aug
101
Sep
Oct
Nov
Dec
Total
648
2022 Incidents
Jan
116
Feb
52
Mar
93
Apr
99
May
87
Jun
108
Jul
113
Aug
94
Sep
76
Oct
83
Nov
85
Dec
86
Total
1092
2021 Incidents
Jan
68
Feb
59
Mar
63
Apr
88
May
74
Jun
94
Jul
110
Aug
86
Sep
94
Oct
93
Nov
95
Dec
72
Total
996
2020 Incidents
Jan
81
Feb
65
Mar
77
Apr
71
May
76
Jun
81
Jul
98
Aug
79
Sep
99
Oct
63
Nov
63
Dec
71
Total
924
Web Counters
Website Visitors
Since
December 7, 2018

Visitors Today
Dec 03, 2023

Welcome to the Official Website for Rescue Fire Company Inc.
2023 Fire Prevention Week

PIO Tyler Jones, October 13

Another fire prevention week is in the books for Rescue Fire Company. This year we were able to spread the word of fire safety to schools and daycare's in our area, we finished the week with our annual fire prevention night where kids and adults were able to "Touch a Truck".

Throughout fire prevention week members were able to visit 3 public elementary schools, 2 private schools, and 2 daycare's. ... (Full Story & Photos)

2 Alarm Structure Fire

PIO Tyler Jones, September 02

On 9-2-23 Rescue Fire Company along with multiple mutual-aid departments were alerted for a structure fire. The caller reported black smoke coming from the rear of the house; Chief 1 observed smoke from a distance and upgraded the call to a 2nd alarm.

Engine 1-3 deployed attack lines to the structure and began knocking down the fire, Tower 1-1 arrived and split their crew to search for a dog and ... (Full Story & Photos)

Rescue Fire Company Scholarship Applications

Captain Robert Travers, May 06

Rescue Fire Companies scholarship process is now open for our two annual Scholarships. One scholarship being the Greg Leonard Scholarship and one being the Johnson Phillips Scholarship. Both scholarships will award $1000.00 each per year. Applicants may apply to both but can only be awarded one per year. We will accept scholarship applications up until Sunday May 21st at which point the scholarship ... (Full Story)




4 Box Alarms, A Busy Start to Spring

Firefighter Tyler Jones, April 15

The past 8 days have proven to be a busy time for Rescue Fire Company members, they have been dispatched to 4 working fires including a 2 alarm basement fire in that short period of time. The box alarms all of which have been in our 1st due have ranged from a fire in a wall to a commercial building with a fire in the roof line. The average response for these calls from RFC was 2 engines and the tower, ... (Full Story & Photos)

RFC Installs Smoke Detectors

Firefighter Tyler Jones, January 26

On the Thursday the 26th of January members sorted through our list of smoke detector requests from our website. Members staffed 2 engines and went to a total of 8 homes to put up smoke detectors.

If you are in need of smoke detectors visit the request tab on our home page and click "Smoke Detectors". ... (Full Story & Photos)

Passing of Life Member Greg Leonard

Firefighter Kevin Carr, November 27

Gregory Allen Leonard, 33 of East New Market passed away November 26, 2022 at his home with his beloved wife Abby by his side after a long hard-fought battle with ALS (Lou Gehrig's Disease).

Greg was born on February 7, 1989 in Salisbury Maryland to Bill and Mary Leonard.

He graduated from Cambridge South Dorchester High School in 2007. He then received an Associate's degree from Wyo Tech in Blairsville ... (Full Story & Photos)

Fire Prevention 2022

Firefighter Tyler Jones, November 09

Volunteers at Rescue Fire Company Inc. finished up our "fire prevention week" this past Thursday, our week of talking about fire prevention and fire safety ended up lasting about a month due to some schedule changes. For the past month volunteers have been visiting daycares, learning centers, and elementary schools around our area to talk to kids about fire prevention. The kids also were able to see ... (Full Story & Photos)

This Weekend: Clocks & Smoke Detectors

Firefighter Tyler Jones, November 04

The officers and members Rescue Fire Company would like to remind everyone that this weekend is important, while you're changing your clocks don't forget to check and try out those smoke detectors. It's a fact that smoke detectors save lives, so help us help you by making sure all the smoke detectors in your house are working.

If you are in need of smoke detectors please fill out the form on our ... (Full Story & Photos)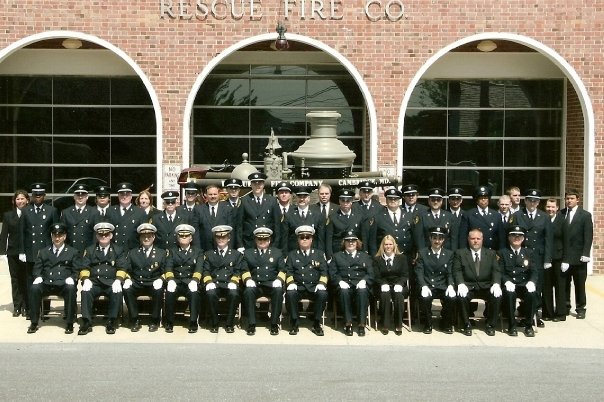 Your feedback is important to us! Feel free to sign the guestbook.